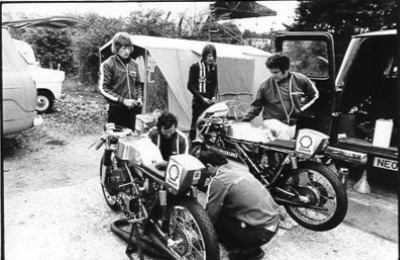 Crooks Suzuki is a family business established in 1960, by ex road racer Eddie Crooks, originally known as Eddie Crooks Motorcycles we were agents for many makes including TRIUMPH and GREEVES. In 1963 we were one of the first Suzuki dealers in Britain and Eddie built up a reputation for turning standard Suzuki road Bikes into race winning machines. After 32 years we are still selling new Suzuki motorcycles and parts as well as looking after customers with Vintage Suzuki's from the 60s and 70s.
Crooks Suzuki riders have won many of road racings premier trophies including the TT, Manx Grand Prix and British Championships.
Here is a picture of the Crooks Suzuki Team in the 70s: Amongst our riders have been BARRY SHEENE, PHIL READ, FRANK PERRIS, FRANK WHITEWAY, STAN WOODS, LES TROTTER,CHARLIE WILLIAMS, MALCOLM UPHILL, STUART GRAHAM and TONY RUTTER.
We have also been involved in Motorcross, Trials and Enduro's at national and international levels, with many successes.
In 2004 we won the Suzuki GB Customer Service Award. Here is our team being presented with the Award in our showroom, from left to right: Tim Osborne (Suzuki Area Rep.), Keith Sharp (Sales Manager), Tony Gallagher (Service Manager), Paul Murphy (Apprentice Technician), David Maddison (Technician), Brian Wakefield (Parts Manager) & Martin Crooks (Managing Director).

Missing from the Photo are: Lynne Crooks & Kim Fidler (Clothing Dept.) & Michael Skillern (Despatch Manager) who are all camera shy!