Crooks Suzuki at the Manx Grand Prix
It all started  back in 1952 when company founder Eddie Crooks started in his first Manx Grand Prix, the Junior Race riding a 350 AJS that ended up breaking down causing Eddie to retire.
Not deterred by this Eddie went on to enter another fourteen Manx Grand Prix races, finally winning the 1959 Senior, breaking all previous lap and race records.

Here are Eddie's results :

1953 : 13th in the Junior race on a 350 AJS and 10th in the Senior on a 500 Norton.
1954 : 8th in the Junior on a 350 AJS and 12th in the Senior on a 500 Matchless.
1955 : 5th in the Junior race on a 350 Norton and 6th in the Senior on a 500 Norton.
1956 : 2nd in the Junior race on a 350 Norton and 5th in the Senior on a 500 Norton.
1957 : 7th in the Senior race on a 500 Norton  and retired in the Junior.
1958 : 2nd in the Senior race on a 500 Norton and 2nd in the Junior on a 350 Norton.
1959 : 1st in the Senior race on a 500 Norton and retired in the Junior after leading.
In 1960 Eddie moved up to the TT races on works MZ's (but that's another story).

After starting his own motorcycle business in 1960 Eddie had not been involved with any racing activities due to the commitment of being his own boss. This all changed in 1964 when one of his mechanics, Frank Whiteway from Dalton-in-Furness started road racing.

Frank recalls :

The first Manx Grand Prix that Eddie entered as a sponsor was the 1964 Lightweight event with a 199cc Triumph Tiger Cub ridden by yours truly.  The 'Cub was originally built and raced by Yorkshireman Carl Ward and was for sale in Bill Maddrick's shop.  A deal was done and plans were drawn up to try and gain an entry in the recently announced new 250cc Manx Grand Prix.  Both Eddie and I had Tiger Cub scramblers which we raced regularly and the experience gained on these little bikes led me to believe that a suitably tuned version would be a useful tool in order to learn the Manx course.
The engine from my own Scrambles Cub replaced the original racer unit and the inlet port was opened up to take the racing GP Carburettor from the Ward machine.  A full rebuild with many modifications and the bike was ready for the Manx Grand Prix.  In fact the bike was a little gem and went really well in practice.  Sadly, the Alpha big-end let go on lap 3 at Cronk-y-Voddy.  A bit ironic when we had always used Triumph big-ends up till then with no problems but had decided to 'play safe' and fit an Alpha unit for the 'Manx.

After Gordon Keith had won the 1964 Lightweight Manx Grand Prix on a 250cc Greeves, Eddie, then being a Greeves dealer, decided that a new 'Silverstone' would be the tool to race in 1965.

Frank recalls :

When the bike arrived we soon discovered that the Albion 5 speed Gearbox was absolute rubbish and would just break under full acceleration so it seemed unlikely that it would survive  leaping along Sulby at full knock!
I spent several weeks fitting a BSA gearbox to this awful bike and once over on the Island we had nothing but trouble in other areas all through practice.  Qualifying was looking very remote until another 'Silverstone' arrived on the Saturday night ferry.  Eddie had bought it from John Hall in Blackpool and I thought all my birthdays had come at once!  I  managed the 3 obligatory quiet laps on Monday mornings practice and duly qualified.

In the race, the end of the crankshaft snapped off, causing the little Femsa Mag to fall into the alloy cover going up 'The Mountain  Mile' on Lap one.  What any awfull Manx Grand Prix that was.  One thing was for sure though. - Goodbye British - Hello J.A. Pan & Co!

For 1966 Eddie, now a well established Suzuki dealer had managed to get hold of a Suzuki T20(super six) 247cc machine for Frank to ride, this bike was originally used by Eddie in the 1965 International Six Days Trial and was no good as an off road machine due to the amazing power this new Suzuki twin produced.

Frank recalls :

The first T20 in the Manx Grand Prix was in fact one of three which Alan Kimber, Suzuki GB boss, brought in for the 1965 ISDT which was  held in the Isle of Man that year.  Eddie rode one and the others were ridden by John Harris and Peter Gaunt.  I have heard people say that these bikes were USA 'Trail' versions of the basic T20.  I am not so sure of this because I know that the one that Eddie brought back, although modified to run 'off road', had the low level front pipes from the T20 roadster.  Anyway, the bike retired with some ignition fault and was whisked back to Barrow-in-Furness still muck up and proudly displaying his ISDT number.
Being the sort of person I am, the bike was hardly out of the van before I had the end covers off and soon discovered a broken ignition condenser bracket.  Swiftly soldered back in place, the motor fired up like a dream and I was off over Bridgegate Avenue at about 90+.  The overall gearing had been lowered so the thing accelerated like a missile and the Six-speed box was a joy.  There was little doubt in my mind that we had a road racer in the garage.

After about 3 months of effort which included removing about eight pounds of surplus metal from the frame, converting the gear-change to RH, manufacturing exhaust boxes, seat, footrests controls etc and designing the six-gallon alloy tank which my old pal Jim Lee manufactured in his workshop over at Birstal, the Suzy was beginning to look the part.  Some initial testing was done on Walney airfield then the machine was taken over to Croft Racetrack for a test day.  Robin Miller, MCN Paddock Gossip, rode the bike and gave it a good write-up despite some initial electrical problems.

When we got over to the Manx Grand Prix the bike ran sweetly. No major problems came to light although there was always that fear that something might break which would end the fun as we had absolutely no spares at all.  The T20 was obviously lacking top speed due to a bog standard motor and I was reluctant to attempt any radical changes which might jeopardise reliability.

From my personal point of view, I didn't care how quick the bike was as long as it got me to that finishing line.  After two retirements in successive year  I was desperate for a result.  All went well and I was somewhat surprised and extremely happy to discover that I had finished 11th at 82.45 mph and gained my first 'Rep.

Frank became the first man to ride a  Suzuki in the  Manx Grand Prix but more importantly the first to finish !
Manx Grand Prix 1966 - Eddie Crooks, Frank Whiteway(on Bike) & Les trotter
1967 saw the arrival of the new Suzuki TR250 (an over counter proper 250cc racer based very much on the T20 road bike). Eddie was one of the first people to get one of these machines and Frank soon had it all race tuned and prepared for the Manx Grand Prix were he unofficially shattered the lap record during practice week with average lap speed of 90.90mph.

The race was delayed for an hour and cut to three laps instead of four due to gales with wind gusts of up to force 10 sweeping the mountain circuit,acompanied by heavy showers.  This proved to be very hard on all the riders and lap times were obviously slower than in practice, from the start Brian Ball lead the way with Frank in second place and that is how it stayed for all three laps.  Frank was only one minute behind the winner and averaged 82.71mph in such bad
racing conditions.

Frank Whiteway was again riding a Eddie Crooks Suzuki TR250 in the 1968 Lightweight Manx Grand Prix and was an obvious favorite after being runner up the previous year.

The race started at 10am on Tuesday the 3rd of September, by the end of the first lap it was Stan Woods who was leading (setting a new lap record of 90.45mph in the process) with Frank in hot pursuit only 13.2 seconds behind.  During lap two Frank caught up to Stan (who had refuelled at the end of the first lap) and they were now neck-and-neck on the road, now Frank dashed into the pits to fill up and was away again in only 16 seconds !

Frank was the second lap leader (having picked up time on the refuelling stop) with Stan back to second place.  This all reversed again by the end of the third lap as Stan had snatched back the lead with a 15 second advantage over Frank, but there was drama as Stan had to make another pit stop, this time to change a spark plug.  At Ballacraine on the final lap Frank was just over 2 minutes ahead of Stan on a Yamaha sounding rough, By the time Frank reached the Bungalow he was leading on the road and finally took the chequered flag nearly 2 minuites ahead of Mick Bancroft in second place, Stan Woods managed to nurse his sick bike home in 9th place.

This was Crooks Suzuki's first major win and Frank Whiteway had broken the race record , averaging  88.52mph (1 hour 42 mins. 18.6 secs. ) for four laps of the TT course including a pit stop.

Frank went on to race in the TT Races and won the 1970 500cc Production TT on a Crooks Suzuki T500, also in 1970 he became the 50cc British Champion riding a Crooks Suzuki TR50.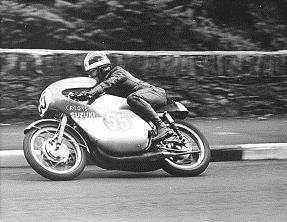 Frank Whiteway on his way to winning the 1968 Lightweight Manx Grand Prix
Check out the Manx Grand Prix web site: